Full Flight EDDM (Gate B224) To LOWW (Cold and Dark manual MCDU Flight Plan from Simbrief)
COCKPIT PREPARATION – CHECKLIST
Ingnition Selector
NORMAL
Einstellen auf Bodenfrequenz
Bodendienst -> Stromversorgung anfordern
IFR Freigabe anfordern, um die Startbahn zu erhalten
Ich erhalte die Startbahn 8R
Simbrief Daten holen
Am besten folgende Daten aufschrieben: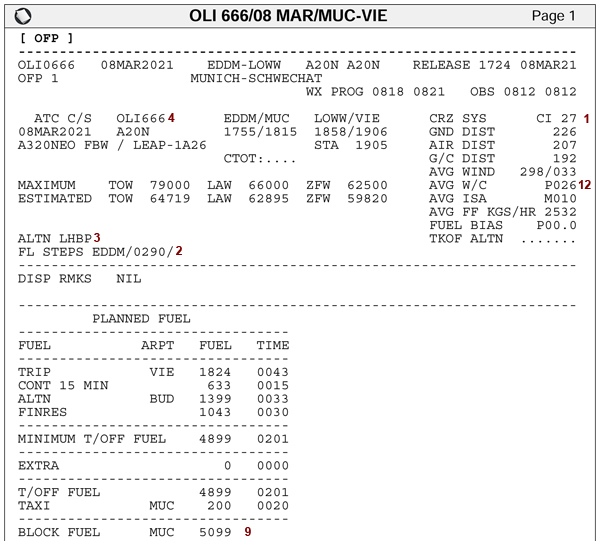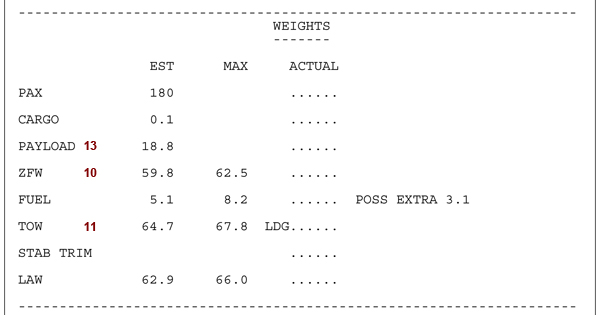 mit einem Cost Index
(1)
von 27
(0-999 – the higher → the faster → the more fuel used)
INIT (A)
COST INDEX -> 27
CRZ FL -> 290
(2)
ALTN/CO -> LHBP
(3)
FLT NBR -> OLI666
(4)
F-PLN
FROM->Departure RWY: 08R, SID: KIRD2E
(5)
-> INSERT
Click KIRDI -> NEXT WPT -> MEDEL
(6)
-> INSERT
Click MEDEL -> NEXT WPT -> MASUR
(7)
-> INSERT
Click LOWW -> ARRIVAL -> ILS29 L -> MASU2W
(8)
-> INSERT
PERF
FLAPS -> 1
TRANS ALT -> 5000 (Germany)
V1 (select twice)
VR (select twice)
V2 (select twice)
INIT (A) ↔ (B)
Now we want to determine our ZFWCG (zero fuel weight center of gravity)
Open FUEL Menu
Set FUEL to 0%
Our Payload from Simbrief is 18.8
(13)
= 18.800 KG
Move Slider of Payload to get near to 18.800 KG
At 50% Payload my Weight is 18.998 KG -> thats near enough
Now we receive the warning "CG out of limit"
Now set the Baggage to center
Change Rear an Forward Baggage to fit Center of gravity
Watch out to reach Payload 18.800
I ended with Forward Baggage = 2500 KG
ande Rear Baggage = 6711 KG
Now my Center of gravity is 28.20% = 28.20 ZFWCG
Our Block Fuel
(9)
from Simbrief is 5099
I Slide Fuel to 27% and my Fuel is 5.139 KG -> that´s OK
Now the Center of gravity is 28.28.28% with Fuel on Board
ZFW from Simbrief is 59.8
(10)
Fill in ZFW/ZFWCG -> 59.8/28.2
BLOCK
(9)
= 5099 = 5.1
The calculated TOW (TakeOffWeight) from Simbrief
(11)
is 64.7
The MCDU also says 64.7 -> BINGO 🙂
TRIP WIND
(12)
= P026 (means Tailwinds; enter +26; if it´s MXX it means Headwinds; enter -XXX)
MCDU MENU -> ATSU -> AOC MENU
WX REQUEST -> SEND *
PERF
Recalculate V1, VR, V2
Cockpit Lights (PFD/ND/ECAM Etc.)
AS REQ
– Wait for APU AVAIL / Check ECAM –
Ext. Power (When APU Available)
OFF
Electric Hydr.Yellow Pump
ON
Engine 1&2 Fire Button
TEST
Bodendienst -> Ende der Stromversorgung anfordern
INIT (A)
→IRS INIT ALIGN ON REF (is set automatically)
Cool feature is to print the requested weather report
MCDU MENU
-> ATSU -> AOC MENU -> RECEIVED MESSAGES -> METAR -> PRINT *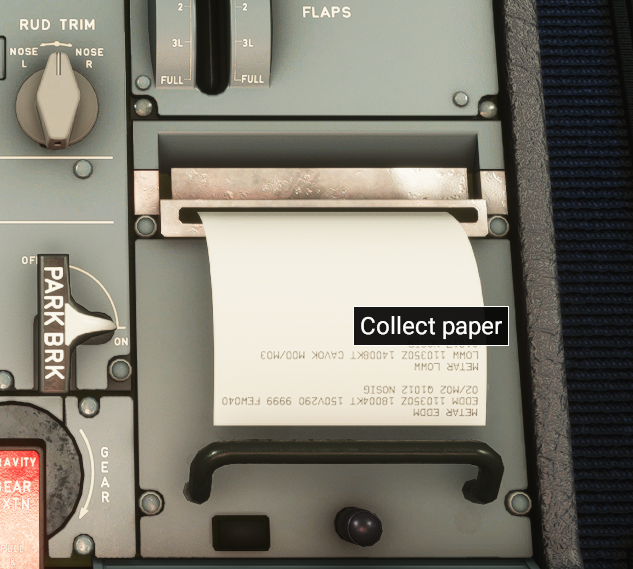 Click on the paper and it´s placed here: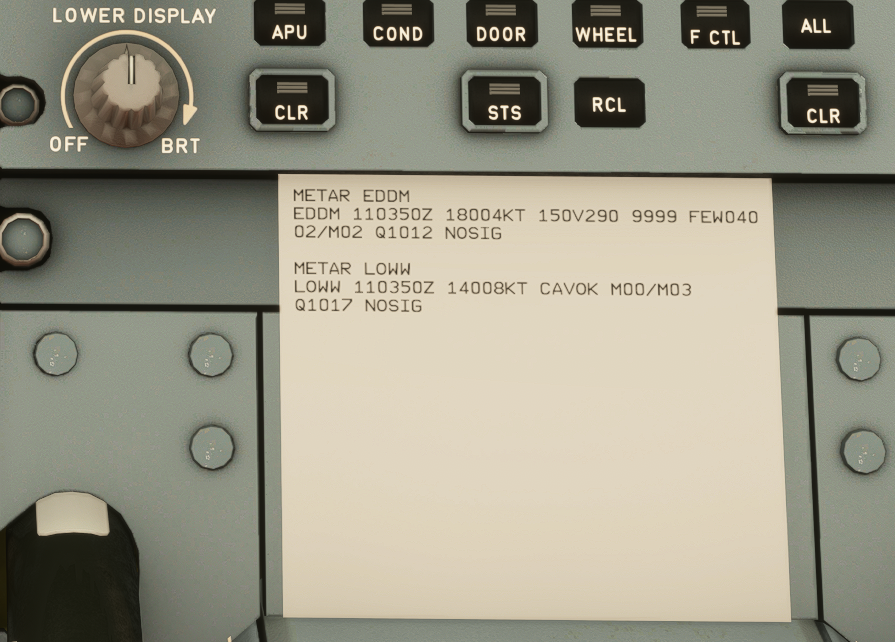 Howto to read the Metar Information:
Example METAR LOWW:
LOWW -> Station Identifier as ICAO (International Civil Aviation Organization) -> Wien
110350Z -> Date and Time 11th of Month on 03.50 Zulu time
14008KT -> Wind Information -> The wind is from one four zero degrees and is sustained at 8 knots
CAVOK -> Ceiling And Visibility OK
M00/M03 -> Air temperature is -0°C, dew point temperature is -3°C
Q1017 -> ATMOSPHERIC PRESSURE -> QNH at the aerodrome is 1017
NOSIG -> NO SIGnificant changes coming within the next two hours
Good explanation
.
COCKPIT PREPARATION – RESUME
Transponder
AUTO (already set)
Altimeter QNH
SET (Taste B)
PUSHBACK & ENGINE START CHECKLIST
Engine Master 2
ON (WAIT N2>56%)
Engine Master 1
ON (WAIT N2>56%)
End Of Pushback
REQUESTED
AFTER ENGINE START BEFORE TAXI- CHECKLIST
Rwy Turnoff Lights
AS REQ
TAXI – PROCEDURE
Parking Break
RELEASE
THR LVR
SLOWLY ADVANCE
Taxi Speed
20-30Kts
BEFORE TAKEOFF / HOLDING POINT – CHECKLIST
ATC Takeoff Clearance
OBT
TAKEOFF – PROCEDURE
Line up and brake
Thrust
→ ~ 50% N1
Brakes
→ RELEASE
THR LVR
→ TO/GA or FLEX
@ VR
→ ROTATE
Pitch
→ ~ 12 – max.15° (FOLLOW FD)
@ Postive V/S
→ LANDING GEAR UP
Initial Climb
→ ~ V2+10 (~150-160 KIAS)
@ Thrust reduction altitude (1.500 ft AGL)
Lower nose to accelerate
Pitch → ~ 5° (FOLLOW FD)
THR LVR → CLB
@ S Speed (~180-210 KIAS)
→ FLAPS UP
Accelerate to 250 KIAS
AUTOPILOT
AS REQ
AFTER TAKEOFF – CHECKLIST
Landing Gear
CHECK UP
Flaps
CHECK RETRACTED (min. S Speed)
Ground Spoilers
DISARM
CLIMB – CHECKLIST
@TRANSITION Altitude – Altimeter
SET STD
@10.000 ft / FL100
Landing Lights
OFF
Nose Light
OFF
Rwy Turnoff Light
OFF
Terrain On ND
OFF
Seatbelt Signs
AS REQ
CRUISE
Check and monitor the flightplan. Check STAR and APPROACH altitude contraints and compare to actual charts. Check RAD/NAV ILS frequency and compare with actual charts. Estimate your TOD based on your Cruise FL and compare to actual TOD. Descend should begin aprroximately at a distance of 10 NM plus 3 NM per 1.000ft above destinations runway elevation. If ATC is not giving you clearance to descent shortly (3-5 Minutes) after your TOD, then the STAR or APPROACH likely is broken. Start to descent then anyways.
DESCENT
Again, due to a lot of wrong STAR altitudes in MS FS database, you are advised to constantly check your altitude during descent and approach even if you were given clearance to descent at the TOD. For a standard 3° glidepath approach, make sure you are not significantly higher at a given point than the elevationof the destination plus a 1.000ft per 3 NM to go. Example: If you have 21 NM to go, destination is at sea level and you are at an altitude of 12.000 ft, than you are way too high. you should be around 7.000 ft
MCDU PERF APR PAGE (fill out/don´t activate) optional SET BARO / TEMP / MINIMUMS etc.
Wetterdaten von LOWW
1032 hPa, umrechnen in (in Hg – inch of mercury)
1 hPa ≙ 0,02953 in Hg / 1032 * 0,02953 = 30,18 (gerundet)
QNH -> 30.24
TEMP -> 6°
MAG WIND -> 360/8
MDA (Minimum Descent Altitude) -> In Wien ist sie 800′; die Elevation von Wien beträgt 600′; 800-600 = 200.
Der Wert in Klammern der Map aus Navigraph entspricht der DH.
DH (Decision Height) -> 200
Seatbelt Signs
ON
@10.000 ft / FL100 Landing Lights
ON
Nose Light
ON
Terrain On ND
ON
@Transition Altitude
Altimeter QNH
SET
APPROACH – CHECKLIST
@ ~25 NM to go
Ls(ILS)
ON
Ground Spoilers
ARM
Auto Brakes
MED
Altimeter QNH
CHECK
ILS APPROACH (No Autoland) – PROCEDURE
@ ~ 20 NM to go
MCDU APR MODE → ACTIVATE (if not active yet)
Speed
→ GREEN DOT
On final LOC intercept course
→ AP APPR ON
@ ~ 15 NM to go
Flaps
→ SET 1
@ Glideslope or latest @ 2000 ft AGL/RA
Flaps
→ SET 2
Landing Gear
→ SET DOWN
Flaps
→ SET 3
Flaps
→ SET 4
Missed Approach Altitude
→ SET
try to be in full landing config latest @ ~ 3 NM to go
LANDING – CHECKLIST
@ 3 NM to go
Landing Gear
CHECK 3 GREEN
Flaps
CHECK FULL
Ground Spoilers
CHECK ARM
Auto Brakes
CHECK SET
Max. Landing Weight
66 t / 145.505 lbs
Manual Landing max. Cross-/Tailwind
38/15 kts
ILS LANDING (No Autoland) – PROCEDURE
@ 3NM or ~ 1.000 ft RA
Autopilot
→ OFF
(Sinkrate at standard 3° Glideslope equals 5 * Ground Speed)
@ 30 ft RA
retard THR LVR to IDLE
slowly flare (just plus 1-2° nose up)
@ TOUCHDOWN
REVERSE THRUST until 80 Kts
AFTER LANDING/TAXI – CHECKLIST
Landing Lights
OFF
Nose Light
TAXI
Rwy Turnoff Light
AS REQ
Ground Spoilers
RETRACT
Flaps
RETRACT
FD/LS/Terrain On ND/Weather Radar
OFF
ATC/TCAS
STBY
APU Master
ON
APU Start
ON
PARKING / GATE – CHECKLIST
Parking Brake
SET
Seatbelt Signs
OFF
Anti Ice
OFF
Probe/Window Heat
OFF
APU Bleed
ON
Engine Master 1 & 2
OFF
Fuel Pumps
OFF
Exterior Lights
OFF
SHUT DOWN – CHECKLIST
ADIRS
OFF
APU Bleed
OFF
APU Master
OFF
Emergency Lights
OFF
Battery 1&2
OFF